Welcome to Moser machine tools
You've been looking for a serious partner to buy and sell modern second hand machines ? You've succeeded!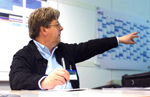 For over 50 years Moser family has been dealing in machine tools. We are internationally operating traders having partners worldwide. Thanks to contacts over many decades we are in a position to find any machine you might request all around the globe and many of our customers – both in Germany and abroad – rely on the efficiency we have. We are grateful for having a large number of leading companies among our regular customers. They are the most precious asset for our company and they are the incentive to become a little better every day.
We look forward to you contacting us.
Yours faithfully
Stefan Moser
Second-hand machines
We deal in modern, either conventional machines of all leading producers